By Lillian Pierson, P.E., Mentor to World-Class Data Leaders and Entrepreneurs, CEO of Data-Mania
Curious to learn about data analytics consulting rates in 2021 for new data freelancers? Are you ready to up your rates as a data analytics freelancer? You're in the right place.
Keep reading to learn my BEST strategies to help you 2x your rates as a data analytics freelancer or consultant.
The reality is – if you're reading this and already performing some kind of data analytics work in a freelance capacity, you're most likely not charging enough.
In my work mentoring data professionals to build 6-figure data businesses, many of my clients come to me charging WAY less than they should be. While many go on to secure 6-figure contracts (~10% of my mentorship clients have in the first 7 months of signing up with me!), they often begin as struggling freelancers.
So, you could say I know a thing or two about helping data freelancers make some SERIOUS uplevels in their business!
Let's get into my best tips for how to dramatically increase your rates as soon as tomorrow.
What IS data analytics consulting?
 
When I talk about data analytics consulting in this post, I'm referring to selling data analytics services – which could easily be marketed as things like:
Data analytics consulting
Data visualization consulting services
Business analytics consulting services
Tableau consulting
Power BI consulting services
Business analytics consultant services
For a more exhaustive list of data analytics service offers, look at how DwellTec breaks down their types of data analytics services here.
But in all honesty, the methods I'm sharing with you also apply to other types of data services. So whether you offer A/B testing, data mining, data engineering, data science, or machine learning, you can apply these pricing strategies to YOUR data business and see incredible results.
 

What are data analytics freelancers doing wrong?
 
The answer to this question is pretty simple.
Most data freelancers simply aren't charging enough.
Let's look at the numbers – both for western and non-western freelancers.
From our research surveying the UpWork profiles of a variety of data freelancers, we found that experienced American freelancers are selling their data expertise at a rate that ranges between $28 and $250 per hour.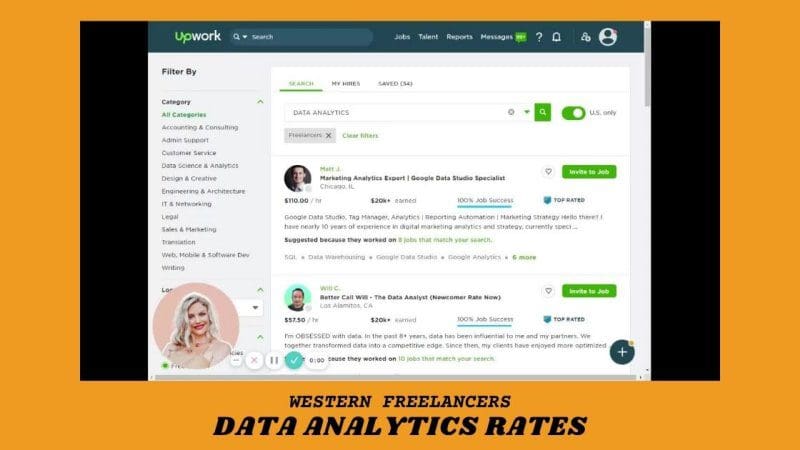 But the median rate was only $97.50 – meaning most experienced data analytics freelancers in the USA charge less than $100…
Continue reading: https://www.kdnuggets.com/2021/08/2x-data-analytics-consulting-rates-overnight.html

Source: www.kdnuggets.com